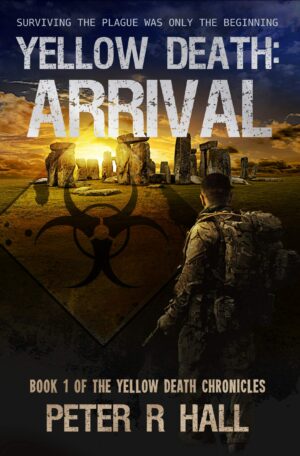 Civilization comes to an abrupt end as a virulent strain of the Black Death sweeps across the globe leaving only a handful of survivors – bereft and traumatised.
In this gritty and complex novel, we follow two people as they live through the ultimate pandemic and struggle to find purpose in the new world order.  John has autism and never fitted into what passed for normal Society, so how will he cope when that Society has disintegrated? Kim is the victim of serial sexual abuse and must now carve a new life in a world where law and order comes from the barrel of a gun.
This first book in the Yellow Death Chronicles provides a gripping read, whilst at the same time grappling with difficult moral and ethical issues.
On release, this book featured in Amazon's Free Kindle Best Selling Ranks as follows:
Number 1: Science Fiction Adventure category
Number 1: Science Fiction Military category
Number 2: Post-Apocalyptic Fiction category
It's available as ebook, paperback, hardcover and large print formats.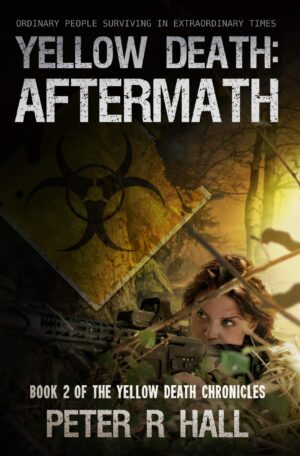 Yellow Death: Aftermath continues the story of the survivors of a devastating pandemic. John and Kim will separately be tested in different ways and will have to find both a reason and a way of carrying on. Survivors of the plague battle against something far more dangerous – other survivors.
As the survivors gradually form groups and establish settlements, a new peril faces them in the form of a fascist military organisation that intends to impose a harsh new order across South-West England.
The oppressors will force both John and Kim into making tough decisions that will affect not only themselves, but dozens of settlements across South-West England.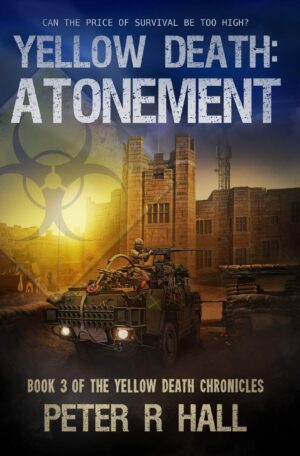 The stage is set for a climactic battle for survival and freedom – but will it go ahead?
Following a plague which devastates humanity, a cruel dictatorship rises in south-west England. The citizens of the Yellow Cross settlement have a crazy plan to fight back, but to succeed they may have to kill innocents.
Perhaps there is a solution to the moral dilemma, but somebody must make a terrible sacrifice. While the resistance argues over whether to proceed, the oppressors target Yellow Cross for plunder.
Can Cal put right his previous failures and learn to forgive himself?
Can Kim face up to her worst fears and overcome her past?
Yellow Death: Atonement is the third instalment of the Yellow Death Chronicles and concludes the trilogy focussing on the battle against the CUG oppressors.
This book is available as an ebook, paperback and hardcover editions from Amazon.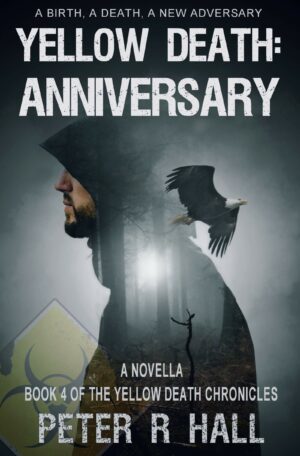 A surprise birth. A terrible death. A new adversary.
If the citizens of Yellow Cross thought their lives would become peaceful, they are sadly mistaken. Hundreds of people arrive for the first-ever Freedom Day festival.
But a few visitors are not coming to drink beer and dance the night away. They have sinister motives which threaten the embryonic federation.
Book 4 of the Yellow Death Chronicles is set one year after the end of book 3. Although a short read, it is packed with surprises.
This is a novella which can be purchased online, but is free for anyone who signs up to my mailing list. Remember you can unsubscribe at any time if you don't want to hear my occasional ramblings.  
Yellow Death: Access All Areas
This is a companion volume to the Yellow Death Chronicles.
It contains deleted scenes from the early lives of John and Kim. It also includes alternate versions of the scene where Cal and Sabine are alone.
The author's commentary provides background information including why these scenes were not included in the published books.
This book is free, but is only available to readers who sign up for my newletter.
Build A Better YOU with Self-Hypnosis
I wrote this book whilst I was a full-time practicing hypnotherapist. I wanted to open the benefits of focussed hypnosis to people who, for whatever reason, did not want to engage a professional hypnotherapist.
The book gives plenty of theory about hypnosis before moving on to describe the process of self-hypnosis generally, followed by using self-hypnosis for specific goals such as breaking bad habits.
MP3 audio tracks accompany the book. I recorded these in order to guide people through the process of beginning self-hypnosis which can be learnt by almost everyone.
Remember that everyone experiences hypnosis many times a day quite naturally – such as when you arrive at a destination and have no memory of how you got there because your brain was working on 'auto-pilot'.
I have withdrawn this book from sale because I am no longer qualified as a hypnotherapist. However, if you are interested in a copy please email me.